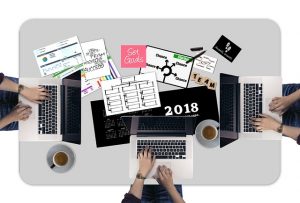 Technologies are developing at high-speed today. The web is on a perpetual evolution. Who knows what tomorrow might bring, right?
With 20+ years of experience we've learnt that success is most of the times related to riding the wave of change and including the new trends in what you do, as long it fits your business.
Let's dive deep into the web development trends for 2018:
Single-Page Websites
Simplicity is the newest trend for web development. And building single – page websites is the answer for including simplicity in your online presence.
This solution puts all content onto one long, scrollable page. This type of website is user-friendly, simple, and great for mobile devices. With a single -page website you have the control over how and in which order the user finds out about your business.
But if you dream about having an awesome e-commerce project or blog this type of website it's just not right for you.
The benefits of a single-page website? Take a closer look:
• significantly reduced costs
• cheap hosting
• the information is presented in a simple yet engaging manner
• great for mobile users
• increased conversions
Static Websites
Primarily, this means that this kind of website is very basic. Did you know that the first websites on the Internet were all static?
Then began the era of dynamic websites. And it seems that nowadays the web is returning to its roots. But they have been significantly improved by static site generators – a combination of a static website and a CMS. The most popular examples are written in JavaScript, a programming language our team is really good at!
Why the static websites are back? They are safe, fast loading and come with a competitive price.
Multilingual Website
If your website is aiming for a global market, it is mandatory to have a multilingual website. We strongly encourage this for it can be a huge plus for your online presence, being the most cost-effective marketing tool. It means that you think, work and deal worldwide. How about an amazing advantage over competitors?
Just to think of it, estimations say that today there are at least 1.5 billion speakers of English globally. Are you convinced?
Improved Online Support. Chatbots
In 2018 the quality of the chatbots and their services will make a difference on the online market. This means that your company's website ensures interaction at any time, in any situation. The good news is that a chatbot's utility is limited only by your creativity and imagination. You can choose the whole concept from layout to messages.
A unique chat experience can help your business stand out and create new opportunities to transform your customers into brand advocates. Now that's the experience you, as a customer, expect to receive, so why use it for your online business too?
Excited about the hype around chatbots? The web Focus team is here to help you!
Push Notification for Websites
Do you know what's great about a website? It has push notifications for its users. A website push notification is a clickable message sent to subscribers. They work like mobile push notifications except that they work on websites and can be accessed on all devices. This means more engagement for your website. It's also a cheap alternative to a mobile app.
Let's beat emails, Social Media and SMS! Provide your up-to-date information using website push notifications!
Progressive Web Apps
PWA's are regular websites that appear to the user like native mobile apps. Even though the technology is quite new the world awaits this hype. Users of PWAs say that the significantly improved user engagement and conversions on all platforms.
Although trends may come and go our team of professionals will be happy to assist you and helping you out with the web development trends.